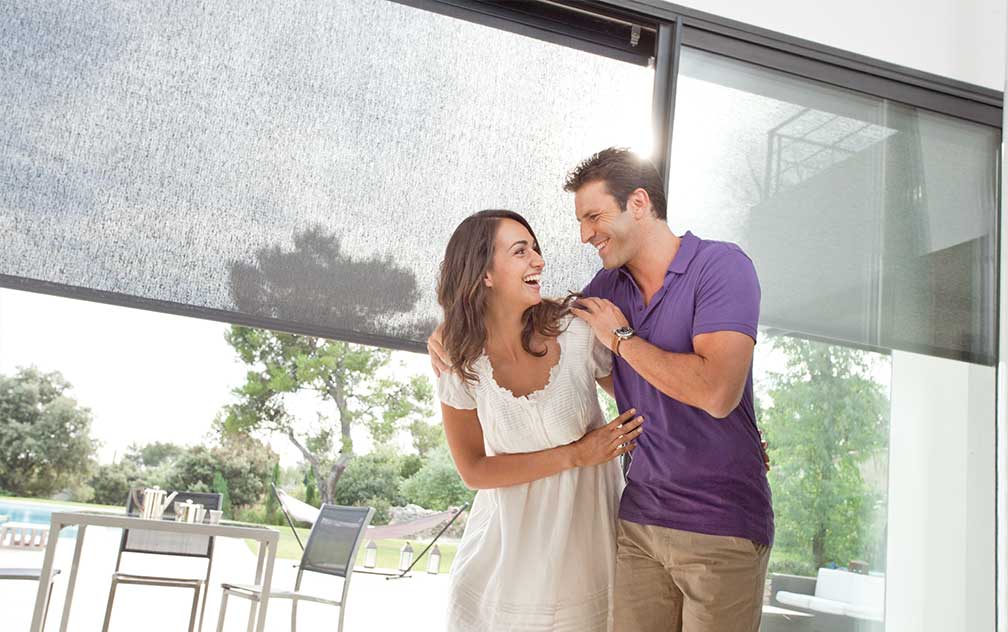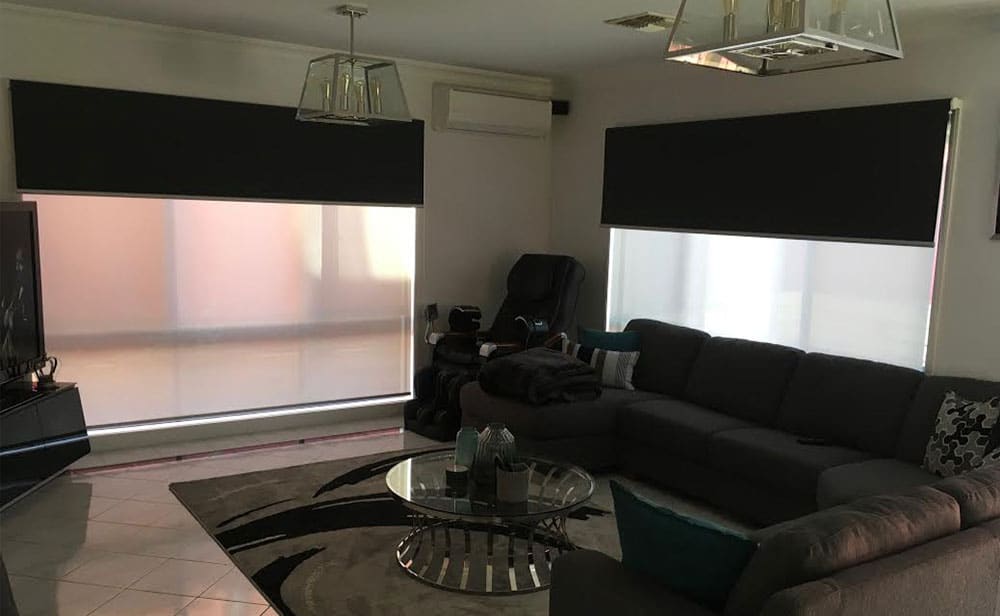 Sunscreen Roller Blinds
Sunscreen Roller Blinds are a beautiful, modern and affordable window covering and a great choice for your Melbourne home or office.
Sunscreen Roller Blinds are available with either a standard chain pull, the modern motorised operation or the traditional spring operation.
A1 Blinds have been manufacturing sunscreen window blinds in Melbourne for many years.
Custom made to enhance the visual beauty of your rooms. We only use the best quality components for all our blinds. They are built to perform and last for many years.
Lifetime Warranty.
Made to order in Melbourne.
Manufacturing Roller Blinds since 1958.
Customer satisfaction.
Somfy Partner – (World leaders in manufacturing Sunscreen Roller Blinds motors).
Seniors Discount.
Veterans Discount.
Free take down of old blinds.

CONTACT US
Showroom:
1 Olive Street, Clayton Victoria 3168

Open:
Mon to Fri 9am to 5pm
TEL: 9544 1122

EMAIL : sales@a1blinds.com.au
Sunscreen Roller Blinds
A1 Blinds has the one of largest selection of internal roller blinds. We are one of the few companies left who manufacture Sunscreen Roller Blinds in Melbourne. We offer a huge range of fabrics & colours including white, black, mesh and more. As a manufacturer we have the capability to provide fast lead times and the flexibility to fit to your requirements.
Sunscreen Roller Blinds Options
Scroll down to see a selection of the types of Sunscreen Roller Blinds we have available that can be personalised to your rooms specifications.
Note: We have many options available which our sales team will be able to assist with, or contact us here.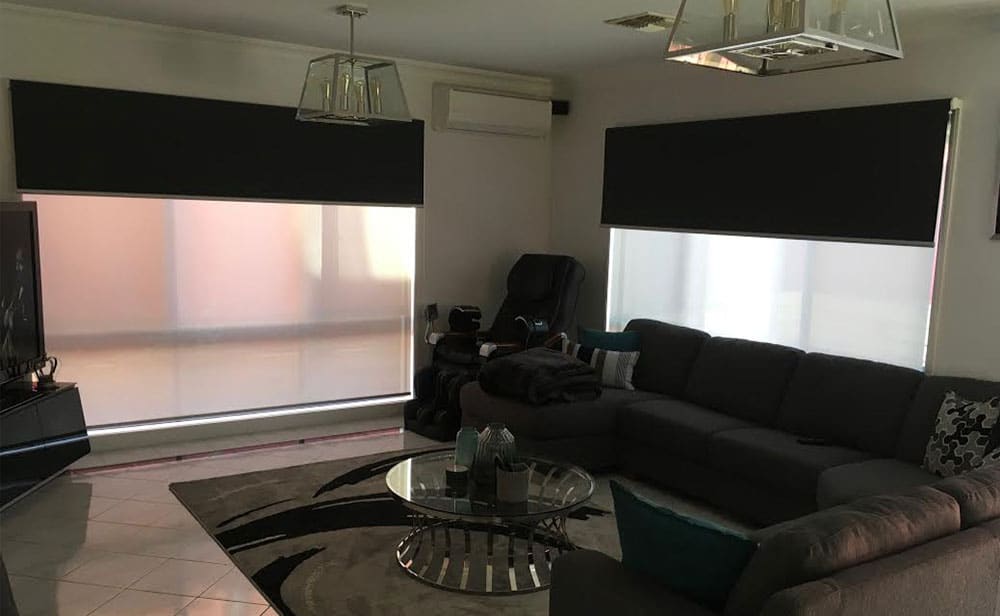 Indoor Sunscreen Roller Blinds
This blinds can be found all over Melbourne. You will find them in homes, schools, libraries, offices ect. They are one of the best options for reducing the Melbourne summer heat, keeping privacy and looking stylish at the same time.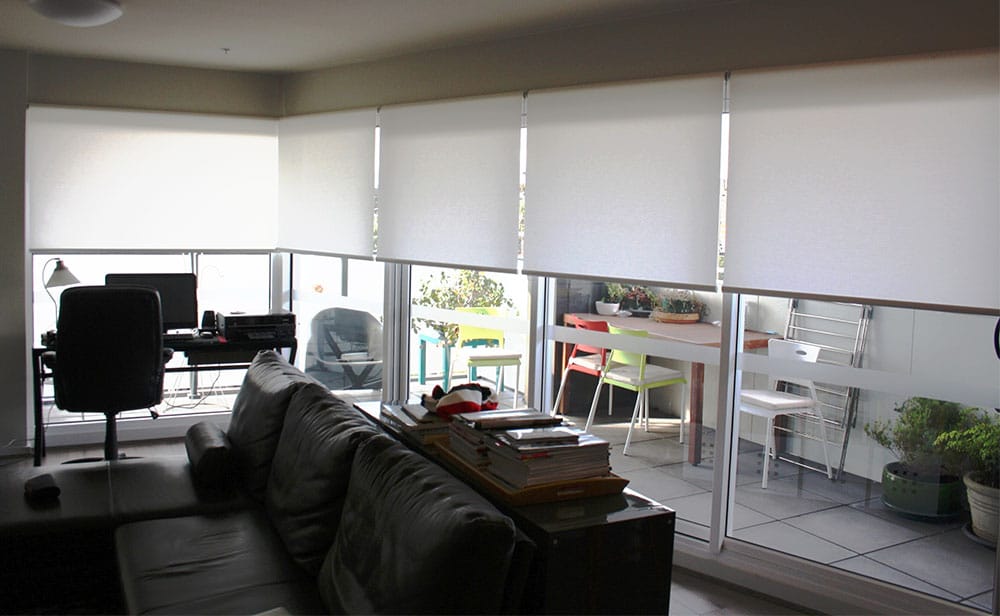 White Sunscreen Roller Blinds
These are some of the more common options of Sunscreen Roller Blinds. The white colour matches everything, provides a feeling of space, deflects the sunlight and of course prevents people from seeing inside the room.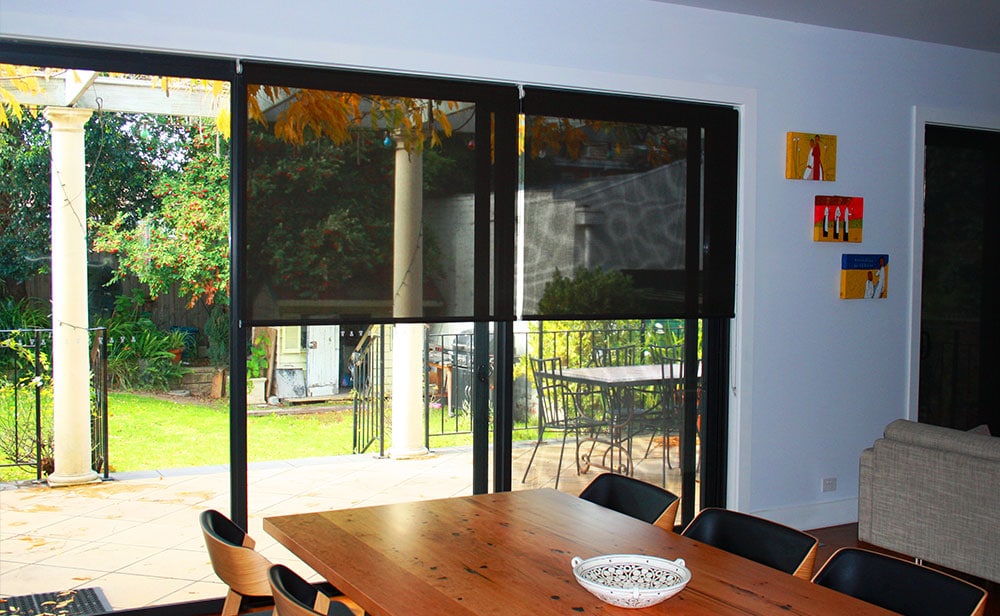 Black Sunscreen Roller Blinds
We have a range of different black Sunscreen Roller Blinds. The range available comes in black, dark grey, charcoal and jet-black. These are available to see at our showroom or during an in home visit.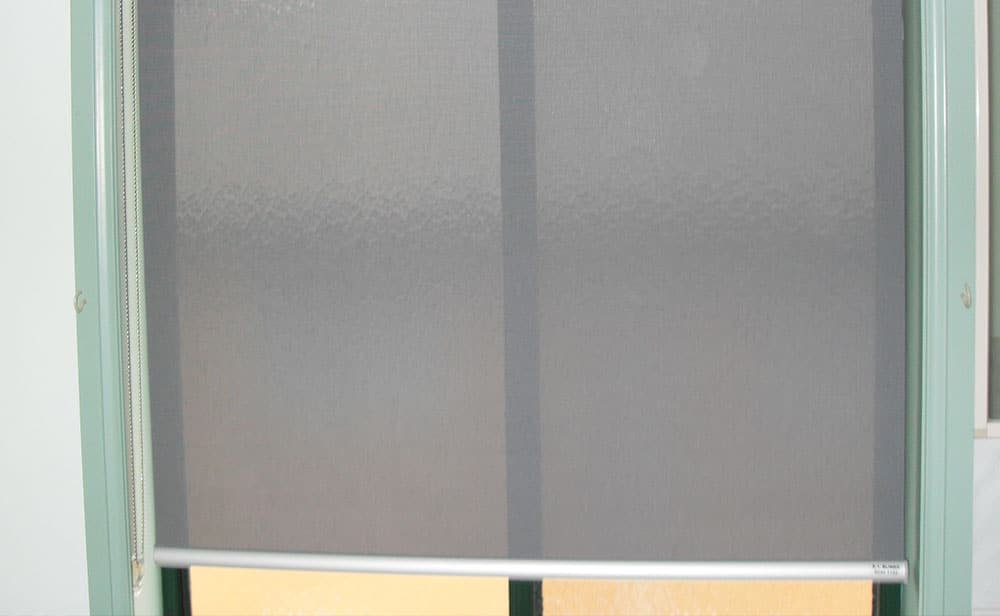 Sunscreen Mesh Blinds
You may have heard the name sunscreen mesh blinds. This is another name for fabric which is woven and leaves very tiny open holes. This type of fabric can also be referred to as mesh.
What Is a Sunscreen Roller Blind?
A Sunscreen Roller Blind is a type of blind that has an open weave fabric and is used to cover windows in your home or office. Sunscreen Roller Blinds are also referred to as sunscreen roller blinds, mesh blinds or indoor Sunscreen Roller Blinds. They're an excellent option in Melbourne if you are looking for privacy, UV and heat protection during the day. They have a beautiful and modern look about them. Sunscreen materials are made from a combination of PVC and Polyester. As an open weave they create a one-way vision allowing you to see out during the day but not in. Sunscreen Roller Blinds offer an affordable yet modern solution to both heat, light control and privacy.
With a side chain to operate the blinds up or down they are very easy to operate. (Motorisation is also available)
Rather than rating in terms of blockout, Sunscreen Roller Blinds are rated in terms of openness and will vary between 3% openness to 7% openness. Openness describes the amount of light and vision available.
Why Choose Sunscreen Roller Blinds? 
You would choose Sunscreen Roller Blinds because they are still the most cost effective window covering on the market and are available in many different colours. Sunscreen Roller Blinds are easy to use and operate. They have the option to almost blockout the heat and light or allow varying degrees of light while still allowing privacy and a view.
Still the most cost-effective window covering available.
Big range of colours to suit all decor.
Easy to operate.
Maintenance free.
Helps to save on heating and cooling costs.
Privacy during the day.
One way view.
Protects against harmful UV sunlight.
Provides a modern look.
Fabric Options
We use Vivid Shade which is a sunscreen fabric used for Roller Blinds. Vivid Shade fabric allows you to see out, but not see in during the day. It has what they call an openness of 5%. 
Colours
When it comes to the colours of our blinds, we have hundreds to choose from. Available in a wide range of colours and finishes and with our extensive range of fabrics you'll be certain to find what you're looking for. A1 Blinds professional sales team provide a Sunscreen Roller Blinds colour-swatch for you to view during the free in home visit. We find this is the best method as colours vary from different online viewing display screens. Customer satisfaction is paramount to us so we make sure you get to choose from our extensive range.
Size Guide
Sunscreen Roller Blinds are made to measure; therefore we cannot provide exact specifications and pricing online. Once an appointment has been made with one of the A1 Blinds Team in Melbourne. They will run through the sizing options available and the best position to install your blinds. There is however some restriction on sizes blinds can be made which is mainly due to the widths of the material and this varies between ranges and suppliers.
Sunscreen Roller Blinds Operations Available
For ease of use today's Sunscreen Roller Blinds are usually operated with a rotation chain. We also offer motorisation which is an excellent option for high or hard to reach windows. If you want to match old blinds we still have the traditional spring operation available. There are five different choices available for Sunscreen Roller Blinds operations. The most popular is the chain operation due to the ease of operation. Each operation serves a purpose and all are available for you.
Standard Chain operation
A PVC or metal (stainless steel) chain is fitted at one side of the blinds called the rotation chain. By pulling down on either the front or the back of the chain allows the blinds to be raised or lowered.
Linked
Having the linked method means 2 blind are linked together with one control. Linking reduces the gaps between blinds from 35mm to 20mm.
Where privacy is an issue or greater protection from the sun is needed use our dual option. This option allows a blockout blind to be installed with the Sunscreen Roller Blinds.  This is where both blockout and Sunscreen Roller Blinds are installed on the same bracket which allows the blockout blind to be pulled down when privacy and light block is required and the sunscreen to be pulled down when only privacy is required still allowing you to see out.
Spring operation
The spring operation Sunscreen Roller Blinds is considered the traditional method use to operate  a roller blind. The blind is always under tension. To operate, the blind is pulled down by hand and once at the right height slightly release the pressure and the spring will lock into position. To lift, pull down slightly to release the locking mechanism and the tension will automatically lift the blind. Continue holding the base until it's lifted to the desired height.
Motorisation
For ease and simplicity of use, motorise your blinds. A1 Blinds motorised Sunscreen Roller Blinds are wired by our "A" grade electricians. They come with a certification that is your guarantee all workmanship complies with Australian standards. Available with switch, remote or WiFi. We use only motors. Somfy supplier by who are a French company with a reputation as the Leading Manufacturers of Blinds & Awning motors. All our quotes include the electrician (Most companies don't and consumers have to find their own electrician).

Roller Blinds are still one of the most practical and value for money window coverings available today.
Request a Free Measure
and Quote Today
Fill out the form below, once submitted our office will respond the next business day.